En général, ce qu'on connaît de Jackson Pollock, ce sont plutôt ses drippings, qui font partie de l'Action Painting, un courant qui s'intéresse à la démarche artistique plus qu'au résultat en lui-même.
Number 1, 1950 (Lavender Mist), 1950, oil, enamel and aluminum on canvas by Jackson Pollock
Mais Jackson Pollock, ce n'est pas que ça, loin de là.
Il est né en 1912 dans le Wyoming, aux Etats Unis. Avant d'être surnommé
Jack the Dripper
(Jack l'égoutteur), il a peint de nombreuses toiles figuratives où les figures ont peu à peu laissé place à des pictogrammes puis ont disparu sous une couche d'abstraction quasi totale.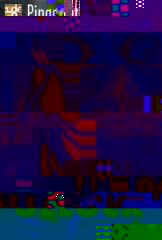 L'exposition de la Pinacothèque de Paris s'attarde plus spécifiquement sur l'influence qu'a eu l'art amérindien sur Pollock. Fasciné depuis l'âge de 11 ans, par les Indiens, le chamanisme et la maîtrise des esprits surnaturels, Pollock a représenté de nombreuses fois les rituels des chamans, ces êtres à la fois masculins et féminins, qui entraient en communion avec la nature et les esprits.

Dans des tons chauds et colorés, avec des formes arrondies et emboîtées les unes dans les autres, Pollock parvient à exprimer tout le côté surnaturel de ces cérémonies.

Pollock a été catalogué comme expressionniste abstrait. Alcoolique depuis l'âge de 12 ans, c'est finalement dans un accident de voiture qu'il meurt, alors qu'il était au volant, en état d'ébriété.

L'exposition présente une quarantaine de peintures et de dessins ainsi que de nombreux objets amérindiens, plus ethnographiques que artistiques (des masques de chamans, des outils pour canaliser les esprits...)

C'est donc sous un angle nouveau que ceux qui connaissent Pollock pour ses drippings, le découvrent.

Une expo bien faite, riche en oeuvres et qui recrée une ambiance chamanique qui fait penser au Musée des Arts Premiers du Quai Branly.