Bien que les personnages Marvel connaissent un succès sur grand écran et que ce filon reste exploité (Iron Man 2, qui doit sortir en 2010, Thor, Spider Man 4 et The Avengers qui doivent sortir l'année d'après), les comics en eux même n'arrivent pas à renouveler leur marché. Confer le plongeon historique des ventes du mois de juin 2009 (résultats du distributeur Diamond).
En dehors de l'anecdotique mise en place d'une comédie musicale de Spiderman en à New York, Marvel cherche de nouveaux produits commerciaux permettant de diffuser ses BD.
Ainsi Marvel a sorti mercredi 19 août une web série, entièrement réalisé façon comics, sur Spider-woman, scénarisée par Bendis et le dessinée par Alex Maleev qui s'appuie sur l'histoire de Spider-woman développée dans «Les nouveaux vengeurs» et «Invasion secrète». Se décline en cinq épisodes, disponibles sur iTunes (uniquement sur le marché US pour un prix unitaire variera dans le temps de 99 cents à 1,25 dollar).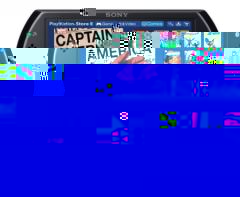 A cela s'ajoute la PSP Go qui accueillera un service de téléchargement de comics. Soit quelque 50 épisodes chaque mois, avec des superhéros de chez Marvel, les Spiderman, X-Men et autre Quatre Fantastiques.
Mais le salut viendra en fait de Disney et de ses 4 milliards de dollars (2.8 milliards d'euros). Le rachat de la "maison des idées" par l'entreprise aux grandes oreilles rondes lui permet de rivaliser avec Time Warner (qui détient DC Comics depuis 69) dans le domaine super-héroïque. Cette opération s'inscrit dans l'air du temps, alors que Ultrahéros, une création italienne de Disney, est publiée actuellement dans Mickey Parade Geant.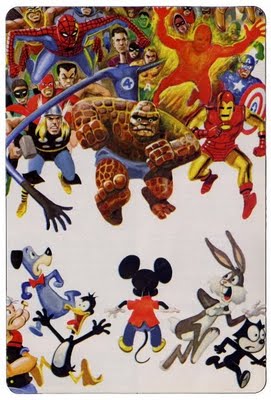 Cela lui permettra de regagner un public masculin perdu, de bénéficier de royalties (tee-shirt, cartables et drap siglées X-Men...) faciles sur un cheptel de 5 000 personnages (je ne sais pas d'où sort ce chiffre relayé par les journaux).
Disney bénéficiera aussi de films déjà produit assurant un bon score au box office ces prochains mois (si ce n'est les FF dont les droits sont détenus par le Fox à perpétuité, tant qu'ils continuent à en faire des films, ce que le producteur Akiva Goldsman a annoncé être son intention) , par contre à moins d'une négociation ardue avec Paramount, partenaire ponctuel de Marvel, il ne pourra pas tout de suite ouvrir de parc d'attraction sur les héros en collant.
Pour Marvel c'est l'occasion de bénéficier des "capacités créatives de Disney", comme l'ont souligné les deux groupes dans un communiqué commun le 31 septembre dernier. La maison des idées pourra continuer à maximiser "la valeur des actifs créatifs" à travers les multiples plates-formes de diffusion de Disney. Stratégie déjà utilisée dans les années 90 (période la grande crise du comics) avec la cession des droits des personnages pour une flopée d'adaptation en dessins animés (X-Men, Spider-Man, Spider-Man Unlimited, the Fantastic Four, Iron Man).
Le patron de Marvel, Ike Perlmutter, confirme que «Disney est la structure parfaite pour le catalogue fantastique des héros Marvel, au vu de (sa) capacité à développer la création de contenus et les activités sous licence».
Pour Disney il s'agit de l'un des plus gros rachats après Pixar (il y a seulement trois ans) pour 7,4 milliards de dollars. Les modalités financières de l'offre (après l'aval des actionnaires de Marvel, étape scellant définitivement cet achat) prévoient que Walt Disney verse aux actionnaires de Marvel 30 dollars et 0,745 action Disney par titre Marvel détenu. A la Bourse de New York, l'action Disney perdait 0,89% à 26,60 dollars. Celle de Marvel a bondi de 26,75% à 48,99 dollars après cette annonce et peu après l'ouverture de la Bourse de New York.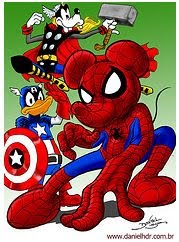 Mais au finish cette fusion va-t-elle modifier quelque chose à la ligne éditoriale de Marvel, Howard le canard vat-il être intégré à la famille de Donald ? Les films et dessins animés Marvel seront-ils ponctués de chansons mièvres ? Les Power Rangers vont-ils affronter les Vengeurs ? Les engagements politiques de Marvel seront-ils lissés (pourquoi ce n'était pas le cas avec le consensualisme post évènement tel que la rencontre Spidey/Obama) ?
Normalement rien ne devrait changer, depuis 1969 quand Warner Bros. Entertainment à ajouté à son giron Batman, Superman et toute la clic de la maison d'édition DC, aucune directive ou pression n'a été faite sur les production d'illustrés. Il n'y a donc pas de raison que ça arrive à Marvel, alors même que depuis 2000, et l'arrivé du nouveau rédacteur en chef (Joe Quesada) qui a remonté les productions à un bon niveau. Puis comme le dit Jérémy Manesse (traducteur et rédacteur pour Panin Comics) sur son blog "on sait à quel point John Lasseter, le créateur de Pixar, est désormais impliqué dans Disney, et c'est une preuve de bon goût qui a mis fin à quelques années de décisions douteuses de la part de la marque à Mickey".
De plus Disney sait gérer des filiales moins consensuelles à travers, par exemple, Miramax qui sort entre autres les films de Michael Moore, sans que cela ne semble poser problème.