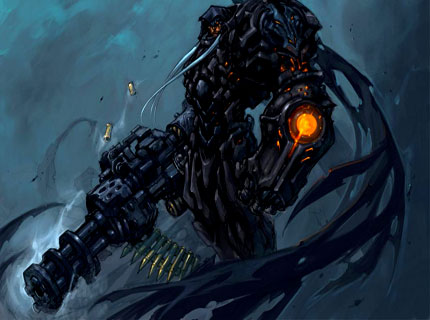 Souvenez-vous des années 90, dans le petit monde des comics, un phénomène était en marche... Une étoile filante plutôt. Un ptit jeune débarquait chez
Marvel
avec un style inspiré du manga.
Joe Madureira
fait son trou et parvient aux commandes de la série la plus populaire de l'époque, les
X-Men
. Il va leur donner une nouvelle identité graphique pour le plus grand bonheur des fans. Succès aidant, il lancera même son creator-owned,
Battle Chasers
... Malheureusement inachevé encore à ce jour... Car un mal le touchait grandement, le vidéoludisme. En effet, l'appel de la manette était plus fort que l'appel de la planche à dessin ! Par la force des choses, il se retrouvera designer et directeur artistique sur plusieurs projets comme chez
Trilunar
avec le jeu
Dragonkind
, mais la plupart de ceux-ci seront annulés... Mais joie, en ce début 2010, on va pouvoir enfin voir du Joe Mad qui bouge à l'écran avec
Darksiders : Wrath of War!
Histoire
Dans Darksiders, nous incarnons l'un des quatre cavaliers de l'apocalypse en la personne de Guerre et notre but est de tout défoncer. Oui bon c'est un peu résumé très rapidement. En gros, l'apocalypse a déjà eu lieu et a détruit toute l'humanité sur Terre, devenu un champ de bataille entre Anges et Démons. Mais elle est un peu en avance par rapport à l'agenda du Conseil, des cailloux qui parlent et qui font style que ce sont les gendarmes entre l'enfer et le paradis. Et comme par hasard, le Conseil accuse Guerre car vu son nom, ça ne peut être que lui ! Comme vous vous en doutez, Guerre va retourner sur Terre pour laver son honneur et salir son épée. En gros, ça va charcuter sévère...
L'histoire tient sur un ticket de métro, mais nous réserve son lot de surprises et se révèle quand même plus sympa qu'elle en a l'air. En tout cas elle a l'avantage de seoir au style du jeu sans être trop compliquée comme Bayonnetta (dont je reparlerai dans une autre critique).
Gameplay
Darksiders est un beat'em all, un peu à la manière d'un God of War, fameuse licence de Sony dont le troisième épisode sort le mois prochain. Donc on se balade dans des environnements plus ou moins fermés pour trucider le plus de gens possible. Guerre a à sa disposition plusieurs armes de choix, comme la sempiternelle épée, mais aussi une faux et un gant surpuissant. A défaut d'être originales, ces armes sont efficaces. Le système de combat est d'ailleurs super simple, un coup fort, un coup faible, quelques combos, des finish moves bien gores et puis voilà.
L'inventaire au fil de l'aventure s'étoffera d'armes de jet plus ou moins efficaces en fonction des situations.. Mais il est important ici d'aborder le plus produit de Darksiders par rapport à ses concurrents frontaux (Bayonnetta, Dante's Inferno, God of War III), c'est à dire l'aspect action rpg à la Zelda...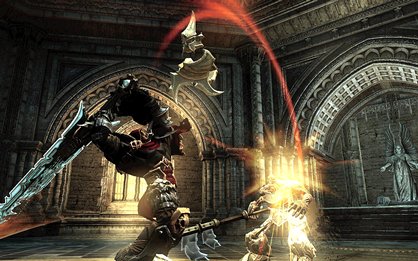 Contrairement aux autres beat'em all sortis, le monde de Darksiders est ouvert. On revisite les zones déjà traversées, on fait des allers retours, mais ce n'est pas ennuyeux. Avec les nouvelles aptitudes et armes, on peut débloquer des passages et des trésors dans ces zones. Une autre grosse influence de Zelda se retrouve dans les donjons. Très bien ficelés et truffés d'énigmes, les habitués du héros à la tunique verte seront en terrain connu. On récupère un objet qui nous sera utile pour défoncer le boss. Classique mais efficace.

Et oui, Darksiders fouille dans plein de jeux et fait un syncrétisme vraiment intéressant. On retrouve du Devil May Cry, du God of War, Zelda, Portal, Shadow of the Colossus, etc, etc... Cela aurait pu être un mauvais point, mais ici tout est bien intégré.

L'aspect visuel de Darksiders est très chouette, on sent bien la patte de Mad sur tout, même les textures. Les animations sont bonnes, le gore est là lors des finish moves. Par contre gros gros bémol, l'aspect 'pas fini' de l'ensemble, quelques bugs par-ci par-là, du tearing (problème de rafraichissement de l'image), pas de reflets dans l'eau... Mais c'est du chipotage, car le design général donne vraiment du charme et une originalité visuelle par rapport aux autres titres sur consoles HD et qui se ressemblent tous dans leur course au photoréalisme. Darksiders jouit d'une identité graphique propre et ça on ne peut pas lui retirer.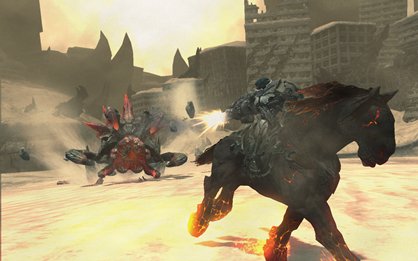 Conclusion
Darksiders à défaut d'être original dans son gameplay est un bon jeu, et une très bonne surprise. L'univers post apocalyptique à mi chemin entre Mad Max et World of Warcraft fonctionne bien. Les donjons n'ont rien à envier face à leurs homologues Zeldaesques. Le système de combat bien que classique a fait ses preuves. Seuls quelques petits soucis techniques peuvent gêner, mais sinon c'est du tout bon, surtout pour les fans en manque de Mad ! Espérons que la suite s'inspire plus de Zelda avec pourquoi pas plus de PNJ et des quêtes secondaires...
Enfin tout ça ne répond pas à la vraie question : à quand la suite de Battle Chasers ?